Tattoo Numbing Australia
Deep Numbing Formula

Up to 5 Hours Pain Free

Free Shipping Over $100
Regular price
$22.00 USD
Sale price
$22.00 USD
Unit price
per
Sale
Sold out
TN100 Premium Numbing Cream is Australia's Strongest Tattoo Numbing Cream.  Our new Deep Numb formula is up to 50% more effective when applied correctly. Apply and leave wrapped 60 - 90 mins prior to tattooing for best results. Provides up to 5+ hours of Pain Free tattooing. Can reapply over unbroken skin & repeat for longer sessions.
Active Indredients:
Lidocaine, Prilocaine, Epinephrine
More Information
View full details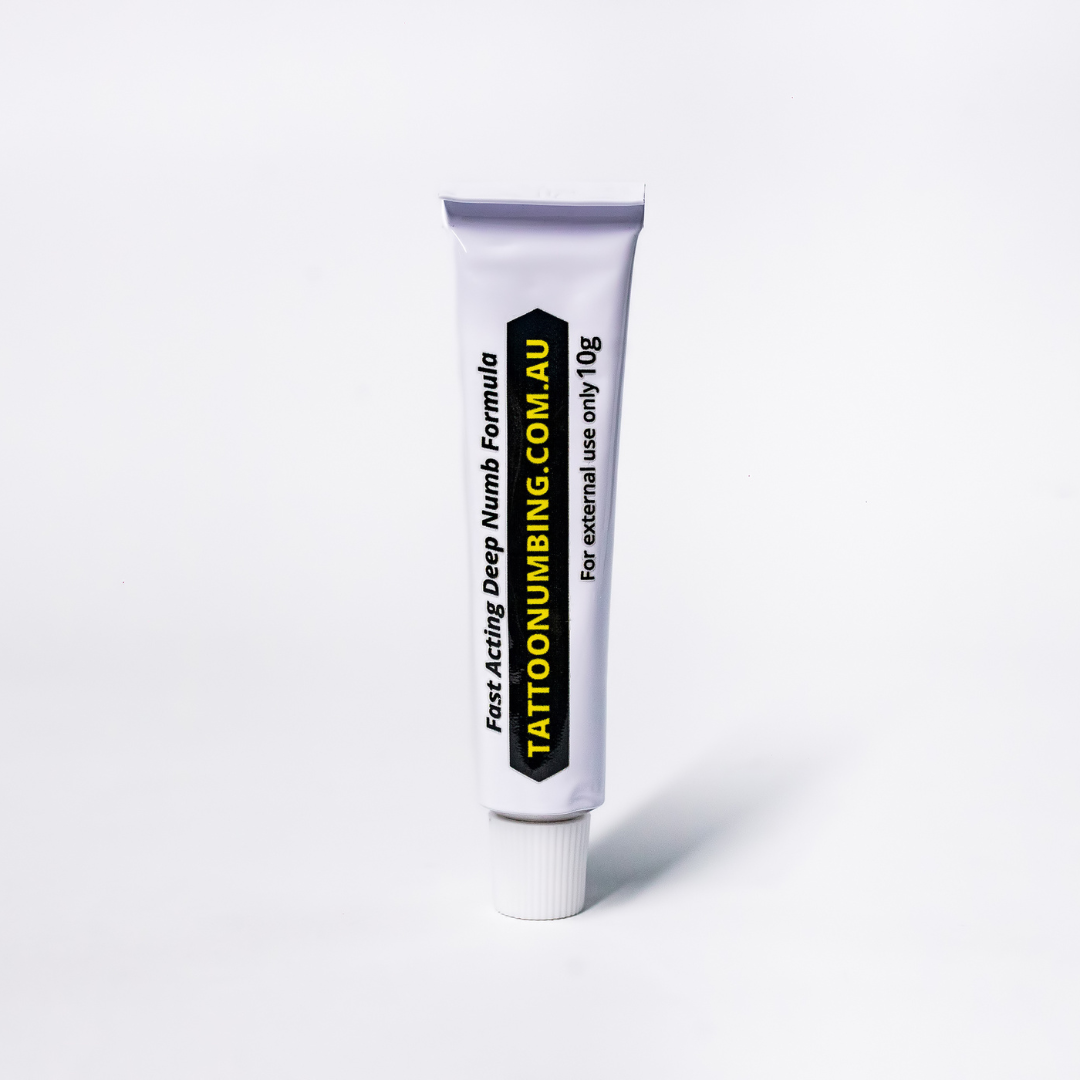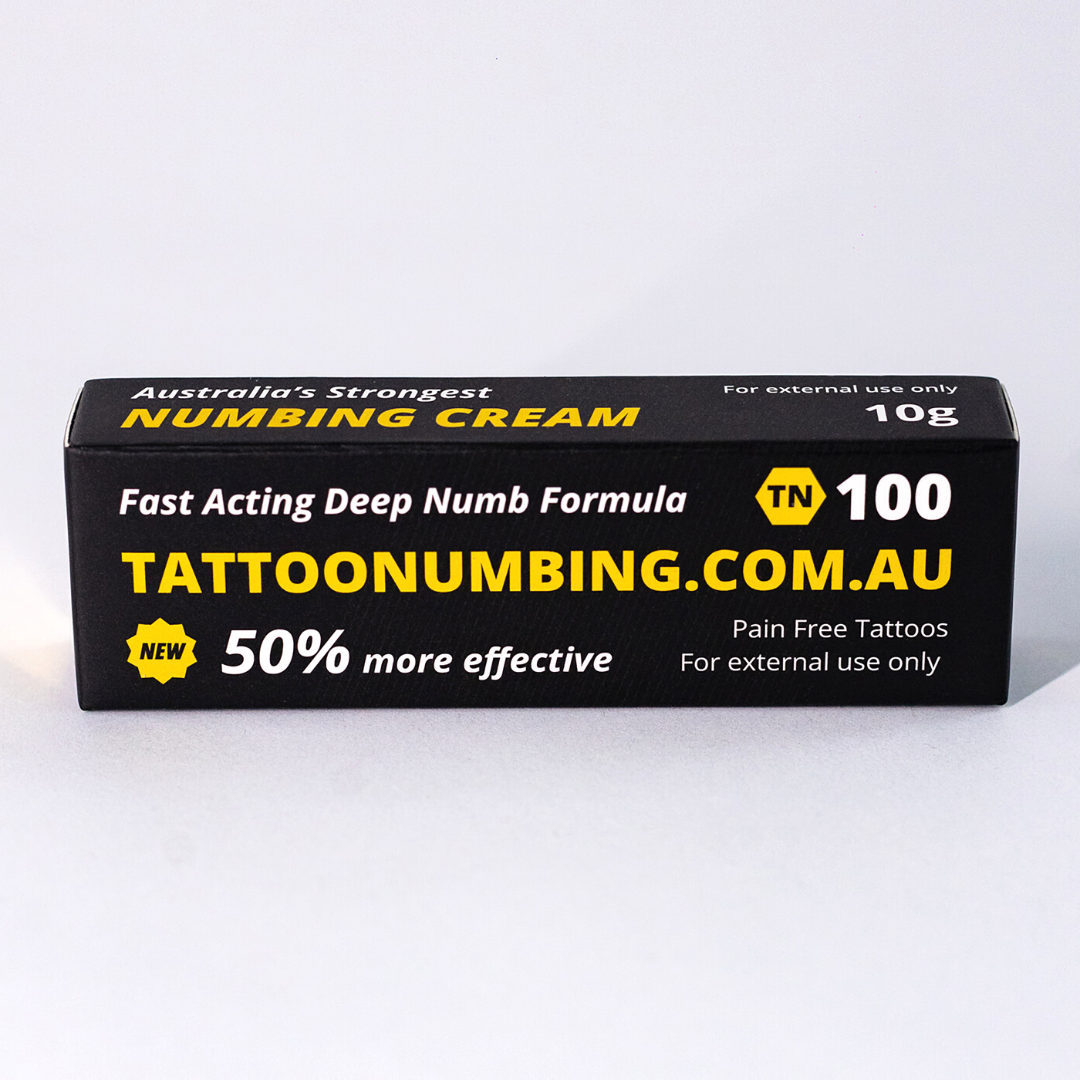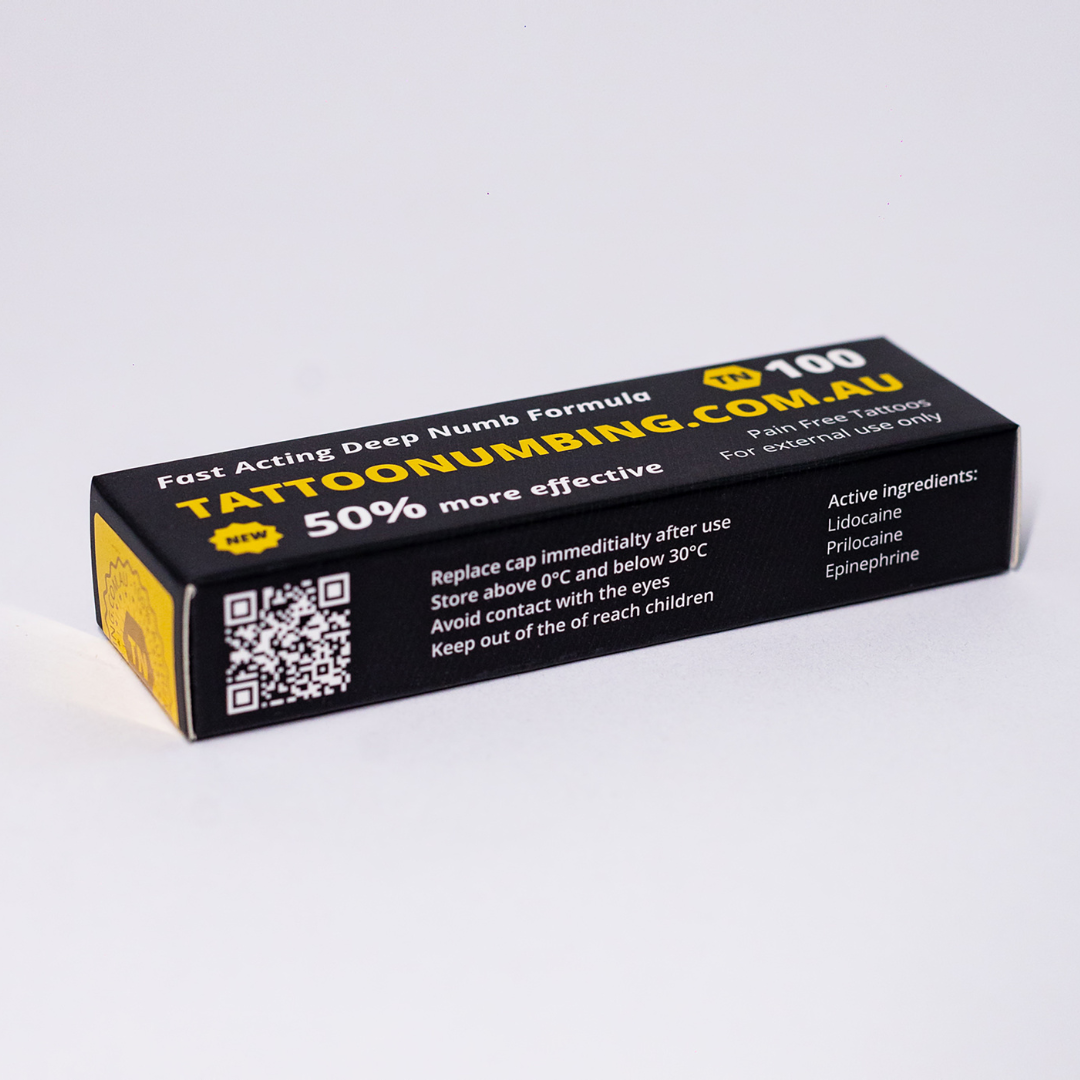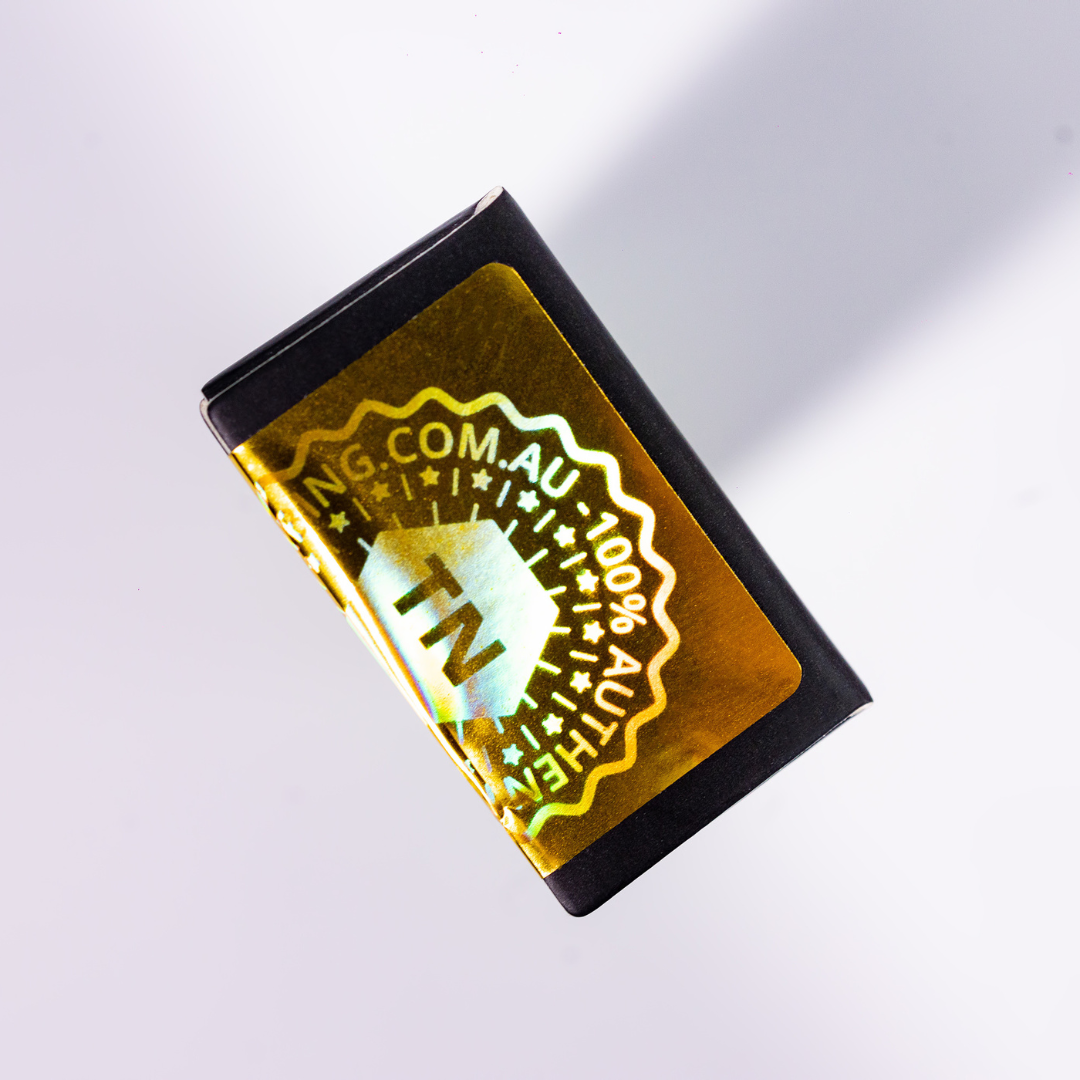 TN100 Product Information
The NEW TN100 Premium Numbing Cream is Australia's Strongest Numbing Cream
Guaranteed Numbing for Tattoo Applications, Laser Removal and Cosmetic Numbing.
Used and trusted by Professionals who only use the best!
Product Details
Brand: tattoonumbing.com.au
Formula: TN100
Weight: 10g Tube
Active Ingredients: Lidocaine, Prilocaine, Epinephrine
Application
Step 1: Clean and dry the area well using our Gentle Foam Wash and pat the area dry.
Step 2: Using rubber gloves apply a generous amount of TN100 Premium Numbing Cream to the tattoo area and rub this in for 30 seconds
Step 3: Over the same area apply a generous amount of TN100 Cream approx. 1-2 mm thick, spread evenly but do not rub in, for larger tattoos requiring longer sessions it is recommended to get several tubes to ensure a thick covering and the best numbing results.
Step 4: Wrap the whole area in plastic wrap making sure to create a firm seal to generate heat for maximum results, this heat helps to activate the ingredients and penetrate deep to numb the nerve endings.
Step 5: Clean off the area you are about to tattoo and you are ready for 3-5 hours pain free. For larger tattoos, only wipe off the area you are working on and leave the cream in place until you are ready to work on that area.
Re apply when needed for longer lasting numbing
For more information see our Application video guide here.
Usage Range:
Tattooing
Body piercing
Laser tattoo removal
Laser hair removal
Microneedling
Body waxing
Permanent makeup procedures
IPL treatment
Warning:
Store below 30°C and above 0°C.
Exclusively for external usage.
Avoid making eye contact.
Keep out of the reach of kids.
Not appropriate for pregnant or nursing women.
The rectum should not be exposed to this substance.
After usage, replace the cap.
If you have sensitive skin, we recommend you spot test a small area and leave for 15 mins before applying fully to ensure you do not have a reaction.
If you have a reaction wash with cool water and do not apply tattoo to this area for at least 24 hours.
It is not recommended for people who have diabetes, thyroid disease, high blood pressure, depression, liver disease, any known allergies to any of the components, heart disease, high blood pressure, or problems urinating due to prostate gland enlargement.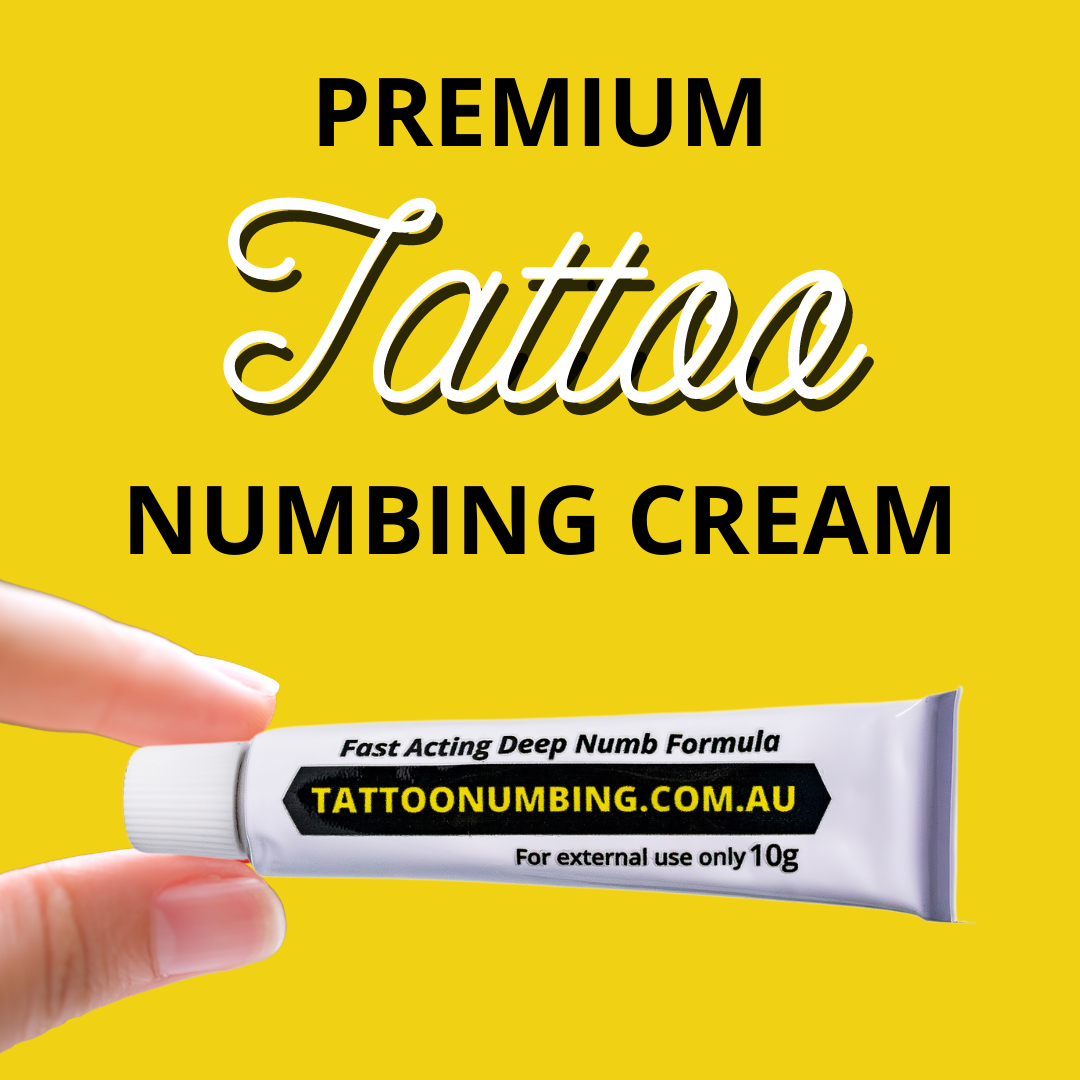 The Gold Standard
Tattoo Numbing Australia was established by experienced tattoo professionals who wanted to offer only the most effective and reliable tattoo numbing and aftercare products on the market.
Tired of all the fake and ineffective creams that did not live up to expectations, our mission was to supply the gold standard in tattoo numbing cream, so we could guarantee satisfaction for our customers.
Our New TN100 Premium Numbing Cream is the result of extensive research and development, and we're proud to launch it in Australia. We stand by our product 100%, Tried, Tested & Proven!